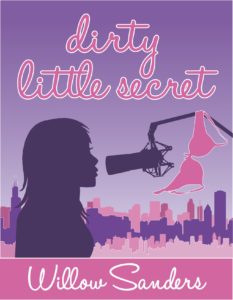 Hillary hadn't meant to sleep with Bert "DJ XTC" Morder. She blamed the lack of public bathrooms, and one too many Jaeger bombs for her even contacting DJ XTC in the first place. Now, thanks to the Internet, and the unfortunate incident of the studio live stream, all of Chicago was wondering exactly who the girl with the red-soled shoe had been. How long can she keep her identity a secret, and what will happen once her secret is out? Suggested for readers 18+ for mild romantic situations.
Buy Now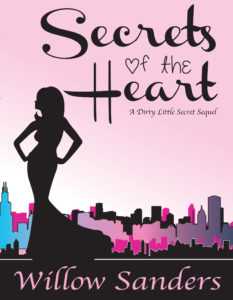 Secrets, Secrets are no fun. Genevieve "Ivy" Hursch thought she was living the dream! As the newly appointed promotions director for a hot new Chicago station, she was certain she had the radio world wrapped around her well-manicured finger. Coupled with an exciting relationship with her perfect new boyfriend, Ivy was certain life couldn't get any better. That is until a piece of old news threatens to take down her career. Heartbreak, scandal, secrets, and lies send Ivy into a free fall of lost dreams and fractured relationships. How will unexpected advice allow Ivy to cope with a life that is less than perfect? Follow Ivy on a journey to discover the secrets of her heart. Secrets of the Heart is a continuation from Dirty Little Secret. Many of characters and situations from Dirty Little Secret, reappear in Secrets of the Heart, but it can be read as a stand alone novel. Suggested audience 18+ for mild romantic situations.
Buy Now
I've wanted to be a writer for as long as I can remember. I had a teacher in third grade — Mr. Fisher — who used to have "story writing" time every Friday morning. We used to write stories and design "covers" out of bright orange card stock, and then "bind" them with staples or hole punches and twine. I loved those Fridays. I looked forward to them. I counted down until they came. But, what I'm told my story telling started even before the third grade. My mom tells me that I used to write stories to my younger sister while she was in utero. "So she wouldn't get bored." A couple years back, I was restructed out of a job that I loved. It broke my heart. But, I also look at it as that door closing window opening kind of thing. It got me out of the funk of feeling sorry for myself, and forced me into "you've always said you wanted to be a writer… so write!" That is how Dirty Little Secret was born. Well actually that's not entirely true. Dirty Little Secret was born during NaNoWrimo back in 2004. But then it sat collecting dust on a shelf for a long, long time. Until aforementioned job loss. I dusted it off. Cleaned it up a bit. Took into consideration the critiques I had gotten way back when I wrote it–and hit publish! It's been a wild ride since then! Two books (two in the hopper, and like three in the planning stages if I ever find time to sit down and make it to 'the end'), many jobs, and now a new location! I'm a Chicago girl born and raised, now transplanted into the gorgeous beauty of the desert southwest. If I can't find inspiration surrounded by this much beauty than there is something wrong with the old cortex. So, thanks for stopping by. Please
Join the Mailing List
for exclusive offers, ARCs and pre-sale announcements. I promise I won't be that weird girl who checks in with you like every second of every day.